"Anova enables me and my coach to have amazingly detailed conversations about my golf game, despite being on different continents. I also love the fact that Anova is super comprehensive, and that it does Personal Strokes Gained."
Improvement in golf comes in fractions of a stroke every time you make a decision on the golf course. With Anova.Golf, you can see your game in amazing detail and find the areas that have the biggest impact on your golf game.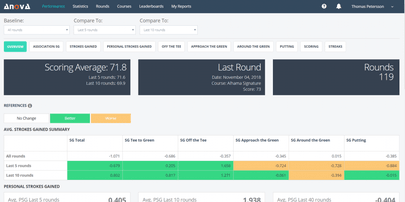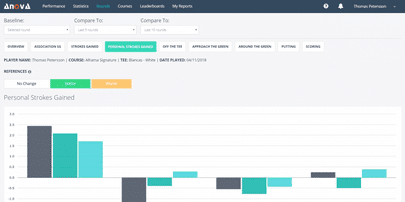 Stop guessing and start measuring. With just a few inputs, Anova can deduce and calculate over 500 different variables. This means that you can answer amazingly detailed performance questions to take your game to the next level. 
Enter your round details in as low as 5 minutes with our iPhone app.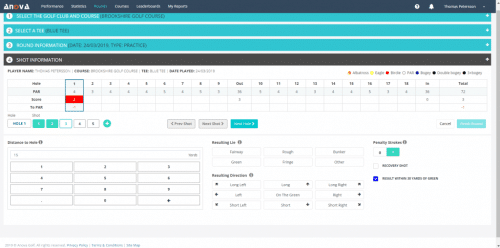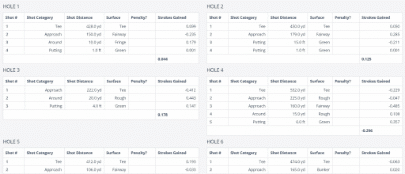 For Players, Coaches, Teams and Academies.
Anova is used by high performing players, coaches, teams and academies. Contact us for more information on how we can tailor our platform to suit your needs in the best way possible. 
I use Anova with all of my students to help me get the information I need in order to be as effective a coach as possible. And whats great is that Anova shows that my students are improving at a faster rate!
I think the Strokes Gained analysis and the rest of the information Anova provides are amazing. My coach and I use them to better pinpoint the practice areas I should focus on to reach my goals faster.
I'm loving how comprehensive Anova is. First of all the round entry is super easy, then you have hundreds of incredibly interesting pieces of information at your disposal about your own game. It is amazing!

Super Fast Round Entry
Add your rounds to our platform quickly and efficiently. With our app, you can add a round in as quickly as 3 minutes.

Used by some of the world's best players, college teams, academies and national teams
Join some of the most high performing players and teams and use detailed performance data to get better faster.

Amazingly responsive
Access Anova on the go using your computer, tablet or mobile phone, as well as our iPhone app. Our platform looks great on any device

iPhone app
Add your rounds while you're playing or when you're on the go with our iPhone app. Download it today from the Apple App Store!

Players
For players that would like to get better faster.

Coaches
For coaches who would like to better help their students.

Teams
For teams looking to scale their improvement using data.
Anova.Golf players have played tournaments on:
Start your 14-day free trial today
Subscribe to our Newsletter
We regularly write blogs and newsletters about golf statistics and how to get better faster. Sign up today to say in the loop.