There are lots of different stats available, and it can be difficult to know which ones to focus on.
Here are the top 5 stats to improve your golf game (strokes gained edition):
1. Strokes Gained from 125-175 yards
This is the area in which most golfers have the most number of approach shots hit from. Our college clients typically average about 5-6 shots per round from this distance; this is followed by shots hit from 175-225 yards for college men, and 75-125 for college women as the second most hit distance bracket. On the PGA Tour, the most important category is the 175-225 yard bracket, but as we go down in performance levels from the tour, the 125-175 yard bracket becomes more important. This can be looked upon as a proxy for your overall approach shot skill level. Check out how Anova calculates Strokes Gained here.
2. Strokes Gained Off the Tee
It is difficult to hit the ball far and straight, which is why the Off the Tee stat is so important. Most players have around 14 tee shots per round, making it a stat where most players have lots of shots hit and where the quality of the shots can range from hitting the ball 300+ yards in the middle of the fairway to hitting the ball out of bounds. The best players in this category hit the ball as far as they can but are able to have the tee shot remain in play which is super important. As soon as you hit a tee shot that incurs a penalty stroke, or ends up in a recovery situation, it becomes extremely costly. Therefore, the strategy ends up being to hit the ball as far as you can possibly hit it, while still keeping the ball in play. Avoiding hitting it the rough is less important, as long as the rough isn't too penal and assuming that you hit it far and keeping the ball in play.
3. Strokes Gained Around the Green from 10-20 yards
This is the distance around the green where you end up with more difficult shots, as opposed to shorter shots from 0-10 yards which are often hit from the fringe or barely off the green. Around the green shots from 10-20 yards often have a significant difficulty increase and could be shots like a short-sided flop shot from the rough, over a bunker, to a green that slopes away from you. This distance bracket happens around 4 shots a round for most players, and can be looked upon as a proxy for someone's around the green shot skill ability.
4. Strokes Gained Putting from 5-15 feet
These are the putts that are long enough so that you get a chance to show off your putting skills, but short enough so that you still have a chance to make the putts. Not even PGA Tour players make many putts from over 15 feet on average, so the key is to hit the shots to inside of 15 feet. Putts shorter than 5 feet are 'easier', meaning that most competitive players make most of their putts from inside of 5 feet. This means that making most putts from this distance is merely 'average' since everyone else also makes most putts from this distance. If you really want to beat your opponents, putting from 5-15 feet is the distance bracket where you get a chance to show off your overall putting ability.
5. Strokes Gained Putting from 25+ feet
On the PGA Tour, this is simply a 'good enough' category, since everyone on tour needs to have good speed, and you can't be competitive on tour without good speed. For most other golfers, our analysis of tens of thousands of rounds show that strokes gained from 25+ feet is a proxy for a player's speed control, and that most exceptional players also excel in strokes gained putting from 25+ feet. For example, in 2018, the top 3 players in the country were in the Pac-12 (which were all using Anova), and those 3 top players were the top 3 players in the Pac-12 in strokes gained putting from 25+ feet. In general, players not on the PGA are not yet good enough at this skill, and can improve relatively quickly by just working on their speed control. Players typically have putts over 25 feet around 3-4 times per round.
How to check your Strokes Gained numbers in Anova.Golf
It's super easy to check how you are doing in these categories when using Anova.Golf. First, you need to add a round, which you can do either by using a web browser or by using our app. In addition, soon you will be able to simply take a picture of your Anova Scorecard in order to import all of the shot details to your account.
When logged in, you can go to your round summary, and click on the 'Strokes Gained' sub-menu: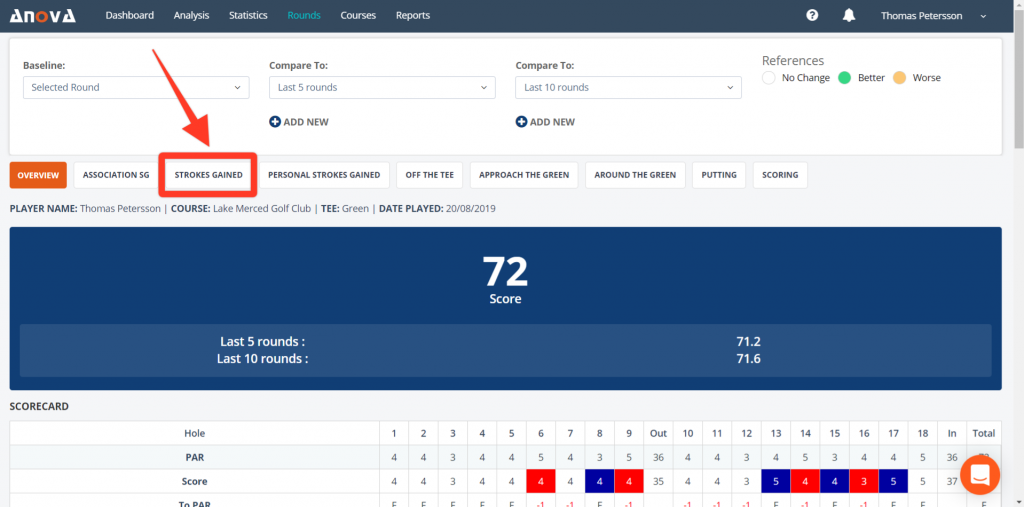 This takes you to the Strokes Gained section of your round summary, where you can see your entire round in strokes gained terms: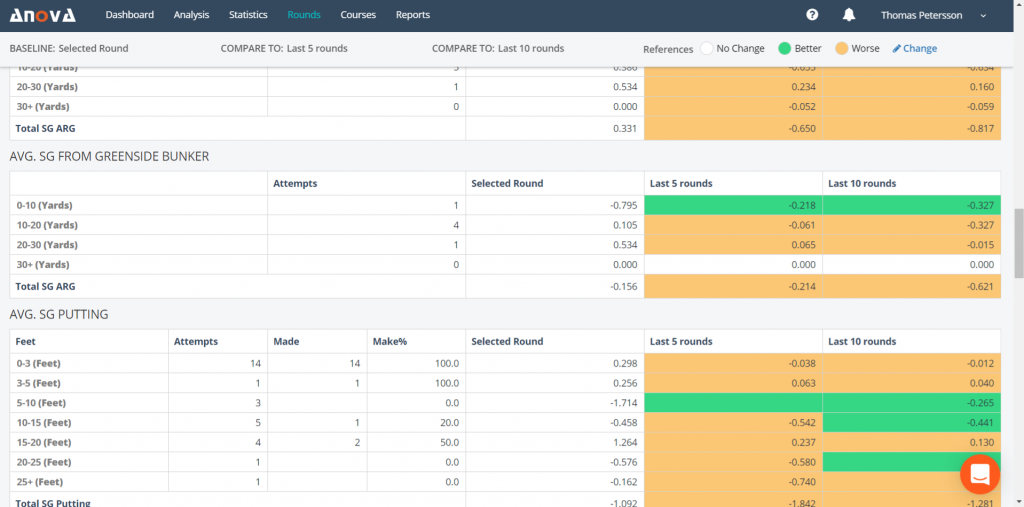 You can also compare your round to two other 'compare to' options, here shown as 'Last 5 Rounds' and 'Last 10 Rounds'. If you want to see an aggregate view of all of your rounds in Strokes Gained terms, you can instead go to your 'Analysis' page, and select strokes gained. There you can see how many times you hit a particular shot from a particular distance: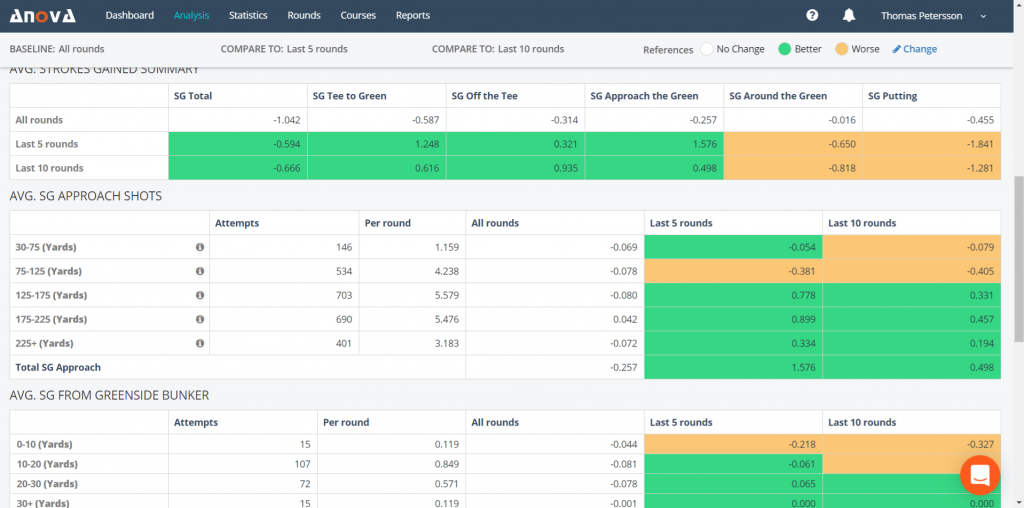 Feel like taking Anova.Golf out for a spin? We have a 30-day free trial where you have plenty of time to see if we are a good fit for you. Click here to sign up for the trial.
Resources:
Strokes Gained. From the Anova.Golf help center.