Fairway Bunker Tendency
📈 Stat of the Day 📈
Today we look more closely at Fairway Bunker Tendency. This statistic counts the number of times a tee shot on a par 4 and a par 5 ends up in a fairway bunker (regardless of club hit).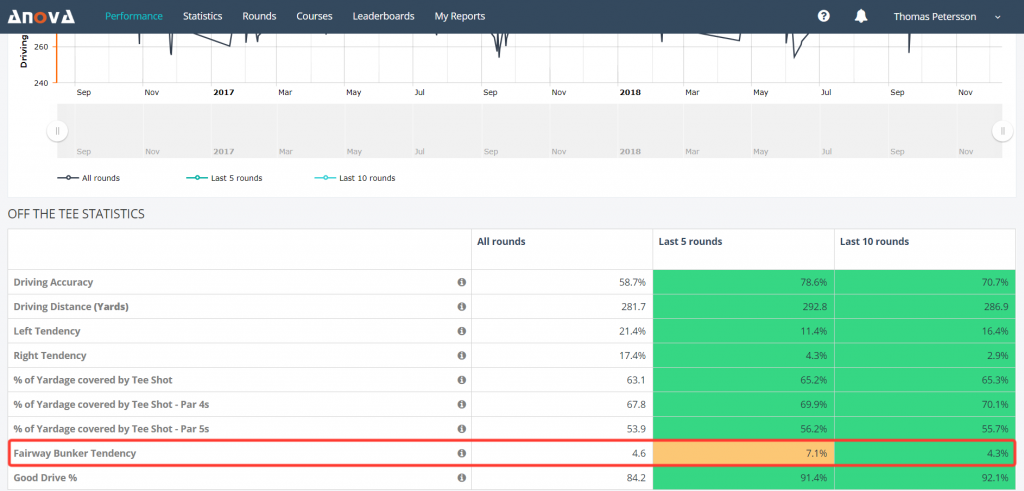 Indirectly, the Fairway Bunker Tendency is a proxy for your aggressiveness Off the Tee. Most fairway bunkers are placed in the direct landing area of your tee shots, so if you have a Fairway Bunker Tendency that is too low, you don't take on enough risk in your tee shot strategy, and are likely to defensive (trying to avoid fairway bunkers). If your fairway bunker percentage is too high, then you are likely taking on too much risk as an average player's expected score from a fairway bunker is significantly higher than from the fairway or from the rough.
🔢 By the numbers 🔢:
In 2018, the PGA Tour average in Fairway Bunker Tendency was around 5.9%. For the men's teams in the Pac-12 in the fall of 2018, this number was 8.19%; For the College Women it was 9.2%; and for the College Men it was 8.46%.
Other related variables: