Anova is now

Toptracer coach
In just a few years, we have had the privilege to work with amazing clients, including thousands of individual golfers, many of the best college teams in the United States, National Teams, High School teams, 6 WAGR #1 players, and 4 NCAA Division 1 National Champions. What Anova.Golf has become wouldn't have been possible without your support and feedback throughout the years, and for that we are truly grateful.
Going forward, you can look forward to new and exciting features powered by the global scale and reach of Toptracer, Topgolf and Callaway. Interested in learning more? Sign up for updates and chance to get early access!
SIGN UP FOR UPDATES AND A CHANCE TO GET
EARLY ACCESS
MODERN GOLF
COACHING

, POWERED BY

TOPTRACER

Toptracer Coach is a web-enabled platform that works on any internet-connected device. It leverages data from Toptracer Range games as well as on-course rounds to provide a level of performance data unmatched in the industry. Pair this with the expertise of a golf coach and you've got the most in-depth, data-rich teaching experience in golf.
Benchmark Assessments Get a quick, objective view of students' current skillset and performance.
Engaging Assignments Set fun to-dos that students can complete on a range or a course in between lessons.
Increased Visibility Track students' progress online, in real-time.
Optimized Experience Analyze the results of students' practice sessions and develop effective lesson plans —all based on objective data.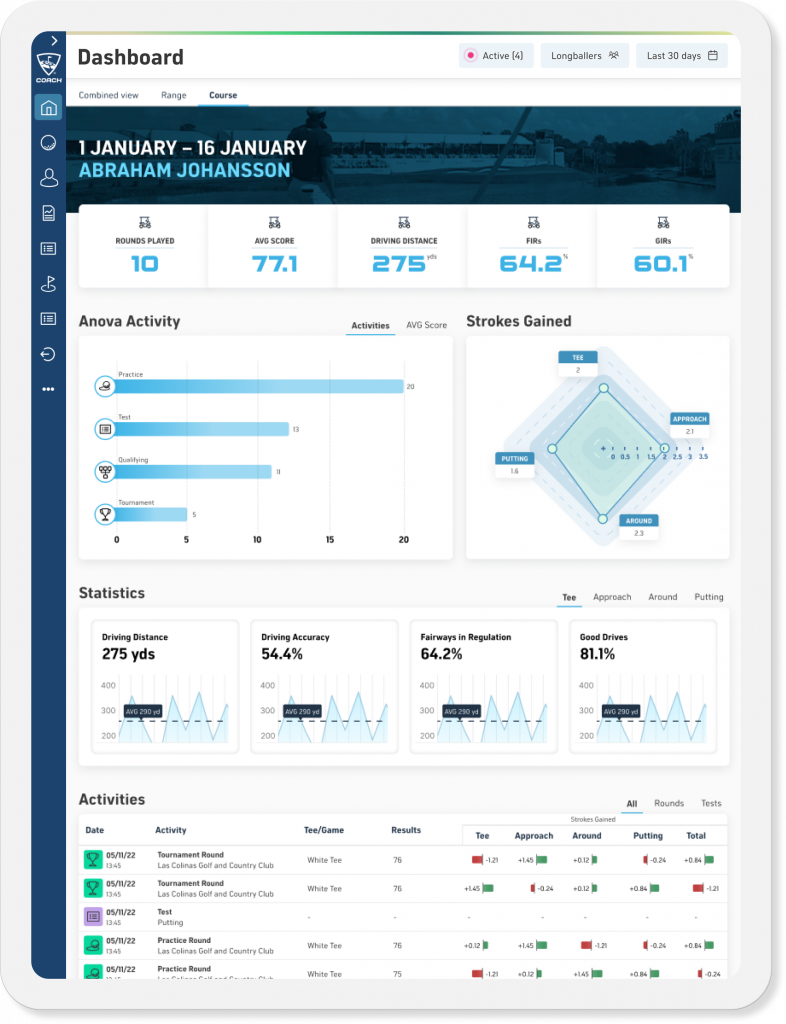 THE MODERN GOLF IMPROVEMENT CYCLE, POWERED BY TOPTRACER
Performing at the utmost of your ability requires attention to detail. With Toptracer Coach, Players can record and measure every single practice session performed on a Toptracer range, share that information with their coach, create a practice plan, add on-course rounds, and get better faster. Your coach is there, every step of the way, and can create tailored assignments to be performed at a Toptracer range. Welcome to the modern golf improvement cycle, powered by Toptracer.
Record and measure your Toptracer Range sessions. Benchmark your performances with T12 and T30, or challenge yourself in Approach Challenge.
Engaging Assignments Set fun to-dos that students can complete on a range or a course in between lessons.
Connect with your coach Your coach can follow your progress and use your data to help you get better faster.
On-Course performance Add your rounds to analyze what your strengths and weaknesses are.
Copyright 2016 – 2023 Anova.Golf, All Rights Reserved